On AWS
The Age of Traditional IT Systems Moving to the Cloud
Deploying & Operating MONITORAPP Security solutions can also be more effective
when combined with 'AWS' cloud resources.
You can also use WAF-VE moving onto a private cloud with a suitable Hypervisor. But with the public cloud, security services are much easier and faster. You can purchase and use AIWAF-VE from AWS' Market Place, an IaaS platform, with the same functionality as 'AIWAF' appliance. AIWAF-VE is an optimized security solution for the resources provided by AWS.
WHY on AWS?
Stability : Delivering global no.1 cloud services for more than 10 years
Offers a broad set of global cloud-based products including compute, storage, databases, analytics, networking, mobile, developer tools, management tools, IoT, security and enterprise applications.
The largest global Infrastructure: 69 Availability Zones within 22 geographic regions around the world
Rapidly scale to EC2 with cloud usage
Quickly respond with high availability DNS service 'Rout53'
Move fast and Securely on AWS , No.1 Global Cloud Service Provider.
AIWAF-VE protects applications in AWS and makes moving workloads easier, safer, and more efficient than AWS. AIWAF-VE leverages AWS well-architected best practices, including autoscaling capabilities. When deployed in clusters—a standard Reference Architecture for redundancy and expandability—AAIWAF_VE can automatically scale up or down in real-time to match fluctuations in workload demands. Join AWS free of charge. Customers who want to introduce AIWAF-VE can easily purchase it from the product page of AWS Market Place and apply it immediately.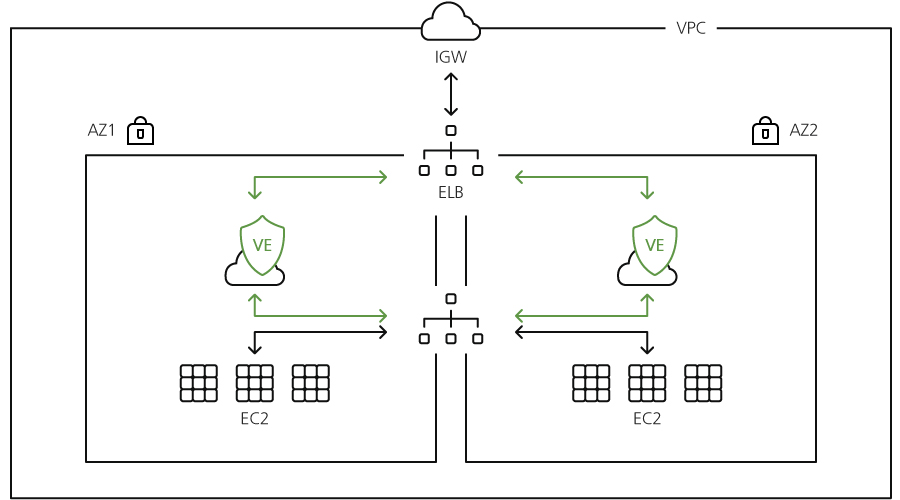 AIWAF-VE Configuration on AWS